Johnny Depp
| | |
| --- | --- |
| Net Worth: | $150 Million |
| Salary: | $20 Million Per Film |
| Date of Birth: | Jun 9, 1963 (59 years old) |
| Gender: | Male |
| Height: | 5 ft 10 in (1.78 m) |
| Profession: | Actor, Film Producer, Musician, Film director, Screenwriter, Voice Actor, Restaurateur, Winemaker |
| Nationality: | United States of America |
Johnny Depp Net Worth:
$150 Million
Johnny Depp's Salary
$20 Million Per Film
What is Johnny Depp's Net Worth and Salary?
Johnny Depp is an American actor and producer who has a net worth of $150 million. To date, Johnny Depp's many successful films have grossed over $3.4 billion in America and $8.7 billion worldwide at the box office.
His annual salary in some years has been known to top $100 million, easily making him one of the highest-paid actors ever
A lawsuit against his former business managers would reveal that between 2003 and 2016 alone, Johnny earned $650 million in salaries, backend profits, and endorsement contracts.
Unfortunately, that same lawsuit revealed that at various times, Johnny was teetering near insolvency due to an unimaginably profligate lifestyle.
At his peak, his monthly lifestyle costs topped $2 million. There are many more details on Johnny's infamous financial situation later in this article.
Early Life
John Christopher Depp II was born on June 9, 1963, in Owensboro, Kentucky. He has three older siblings. His family moved frequently during his childhood, eventually settling in Miramar, Florida. Depp began playing in various bands after his mother gifted him a guitar when he was 12 years old, eventually dropping out of high school to become a rock musician. His band The Kids relocated to Los Angeles, but split up soon after. Depp then chose to pursue an acting career on the advice of actor Nicolas Cage, whom Depp met through his first wife.
Career Beginnings
Depp's first film role was in the 1984 horror film "A Nightmare on Elm Street." He worked on a few other projects before landing his breakout role in the Fox television series "21 Jump Street," where he was reportedly paid as much as $45,000 per episode.
Rise to Stardom
"21 Jump Street" helped Depp gain recognition in the industry. In 1990, he played the title character in Tim Burton's film "Edward Scissorhands." A critical and commercial success, the role established him as a leading Hollywood actor and also began his long relationship with Burton. Some of Depp's projects throughout the 1990s include "Benny and Joon" (1993), "What's Eating Gilbert Grape" (1993), "Don Juan DeMarco" (1995), "Donnie Brasco" (1997), "Sleepy Hollow" (1999), and "Chocolat" (2000).
He earned widespread acclaim for his performance as Captain Jack Sparrow in the Walt Disney Pictures film "Pirates of the Caribbean: The Curse of the Black Pearl" (2003). He reprised his role as the pirate in the franchise's four sequels. He reunited with Tim Burton in 2004, starring as Willy Wonka in "Charlie and the Chocolate Factory" (2004), and the animated film "Corpse Bride" (2005), with Depp voicing the character Victor Van Dort. For his role in "Sweeney Todd: The Demon Barber of Fleet Street" (2007), also directed by Burton, Depp won the Golden Globe Award for Best Actor – Motion Picture Musical or Comedy and was nominated for the third time for the Academy Award for Best Actor. He continued his Burton partnership with "Alice in Wonderland" (2010) and "Dark Shadows" (2012). Other films he has appeared in include Fantastic Beasts and Where to Find Them" (2016), "Murder on the Orient Express" (2017), and "Richard Says Goodbye" (2018).
Other Ventures
Depp established his production company Infinitum Nihil in 2004, serving as founder and CEO alongside his sister Christi Dembrowski as president. Depp is also an accomplished musician. He formed the group Hollywood Vampires with Alice Cooper and Joe Perry in 2015, releasing their self-titled debut studio album in September that year. The album features three original songs, all co-written by Depp. Their second studio album "Rise" was released in June 2019.
Dior Payday
In 2015 Johnny teamed up with Dior to launch the brand's new fragrance Sauvage. Johnny has appeared in many print and television ads for the fragrance.
In August 2022 Johnny reportedly signed a multi-year "seven-figure" endorsement contract extension with Dior.
Johnny Depp Height
How tall is Johnny Depp? Johnny Depp is 5 foot 10 inches tall.
Personal Life
Depp married Lori Allison in 1983, and they divorced in 1985. Subsequently, he was engaged to actresses Jennifer Grey and Sherilyn Fenn in the 1980s. In 1990, he proposed to his "Edward Scissorhands" co-star Winona Ryder. He dated model Kate Moss from 1994 to 1998, and began a relationship with French actress and singer Vanessa Paradis in 1998. The pair met while Depp was shooting his film "The Ninth Gate" in France, and have two children together.
After separating from Paradis in 2012, Depp began a relationship with actress Amber Heard, whom he met the previous year on the set of "The Rum Diary" (2011). They married in February 2015, but Heard filed for divorce in May 2016, alleging that Depp had been "verbally and physically abusive," allegations Depp's lawyers denied. They finalized the divorce in January 2017, with Depp paying Heard a settlement of $7 million.
Defamation Lawsuits
Amber Heard received a $7 million settlement from Depp when the divorce was finalized. Amber then vowed to donate the settlement to charity, specifically to the Children's Hospital of Los Angeles and the ACLU.
In January 2021, Johnny claimed that Amber had been lying about donating the money to charity. Depp's lawyers apparently reached out to the Children's Hospital of Los Angeles and the ACLU to find out how much they had actually received from Heard. According to the Daily Mail, the ACLU refused to turn over the numbers but the Children's Hospital reported to have only received $100,000, which would be around $3.4 million shy of her allegedly promised donation. The hospital reportedly even reached out to Heard to ask "if the pledge will not be fulfilled".
In 2018 Johnny Depp filed a lawsuit in the United Kingdom against News Group Newspapers, publishers of The Sun which referred to him as a "wife beater" in an April 2018 article. The lawsuit went to trial in 2020. Both Heard and Depp testified for several days. In November 2020 a judge ruled that 12 of the 14 incidents of violence that Heard reportedly claimed to have incurred were "substantially true." Depp lost an appeal in March 2021.
In 2019 Johnny sued Amber Heard for defamation in Virginia. He sought a settlement of $50 million as a direct response to an op-ed Amber Heard had written for The Washington Post in December 2018 that detailed the alleged abuse she suffered. Although Heard never mentioned Depp by name, he felt that she was heavily implying that he was to blame for various acts of violence – despite earlier, joint statements from the couple stating that "there was never any intent of physical or emotional harm" from either partner.
In addition, Depp claimed that he was actually the victim of domestic abuse as a result of Heard's behavior, which according to him included punching, kicking, throwing objects, and even defecation.
Depp's legal team published evidence of his allegations, and Heard's attempts to have the case dismissed were denied.
Heard counter-sued in August 2020. The trial for this defamation case commenced on April 11, 2022 in Fairfax County, Virginia.
On June 1, 2022 the jury in Virginia awarded Johnny $15 million in defamation damages. That was soon reduced to $10.35 million with Virginia's cap on punitive damages. At the same time the jury awarded Amber $2 million worth of damages. These damages may be appealed.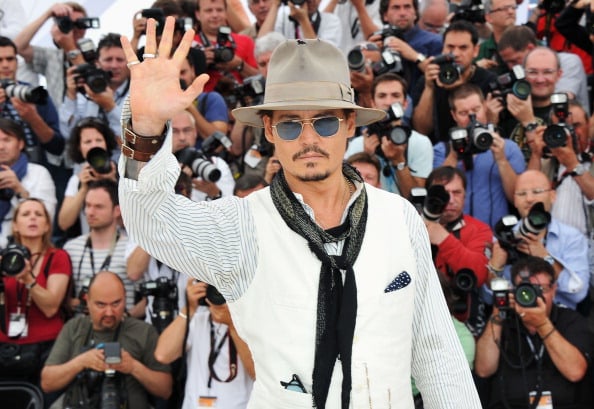 Getty
Financial Situation
For the majority of his career, Depp's finances were managed by a company called The Management Group. In 2017, he filed a lawsuit accusing them of "gross mismanagement and, at times, outright fraud." Depp alleged that the firm caused him to lose tens of millions of dollars, racked up more than $40 million in debt without his knowledge, failed to file his property taxes on time, made unauthorized loans, and overpaid for security and other services, amongst other charges.
The Management Group counter-sued, claiming that despite the fact that Depp had been paid $650 million in the previous 13 years, his unbelievably lavish spending habits made it so he no longer had enough liquid cash to cover his basic monthly expenses, which topped $2 million per month. They claimed that Depp put himself in this position by over-spending in a reckless way.
At his peak, Depp reportedly spent $3.6 million per year to maintain a 40-person full-time staff, $30,000 per month on wine, $150,000 per month on bodyguards, and $200,000 per month on private jet travel. He also reportedly spent $75 million to purchase more than 14 homes around the world including a 45 acre chateau in France, a horse farm in Kentucky, and several islands in the Bahamas. If he were to sell his entire real estate portfolio, it would easily be worth $100 million. He owns several yachts, more than 45 cars, 12 storage facilities worth of memorabilia, and an art collection that includes works by artists such as Andy Warhol. Depp also reportedly once spent $5 million to have the ashes of Hunter S. Thompson fired from a cannon off a 153-foot tower.
Depp is still one of Hollywood's highest paid actors. He commands $20 million upfront per movie, plus 20% of the backend. That deal has resulted in more than $300 million earned off the Pirates of the Caribbean franchise alone. He also made $55 million in backend earnings off "Alice in Wonderland."
Notable Salaries and Earnings
While starring on "21 Jump Street", Johnny earned a salary of $45,000 per episode. His major film salaries began in the mid-1990s. For example, in 1995 he earned $5 million for "Nick of Time". He earned another $5 million in 1997 for "Donnie Brasco".
For his first appearance as "Jack Sparrow" in 2003's "Pirates of the Caribbean: The Curse of the Black Pearl", Johnny earned $10 million. His base salary for the second "Pirates" installment was $20 million. With backend points, she earned an additional $40 million for a total of $60 million. He earned a combined $55 million from the third "Pirates" movie.
In 2010, Johnny took a low base salary and high backend points for "Alice In Wonderland". This resulted in a $55 million payday when the movie earned $1 billion worldwide. That currently stands as one of the 20 largest acting paychecks for a single movie.
He earned $15 million for "Rum Diary", $7.5 million for "Rango", $18 million for "Charlie and the Chocolate Factory" and $20 million for "The Tourist".
In 2020 Johnny was paid $16 million to appear in the third installment of the "Fantastic Beasts" franchise. His contract required studio Warner Brothers to pay him regardless of any circumstances. So when they ended up firing him in the wake of the Amber Heard lawsuit, Johnny still earned his $16 million without having to lift a finger.
Real Estate and Houses
Hollywood Hills: Johnny Depp's primary home in Los Angeles is actually made up of five contiguous lots that span 2.75 acres. The primary mansion is a little over 7,000 square feet and features 8 bedrooms/10 bathrooms. Collectively among all the houses on the estate, there are believed to be 35-40 bedrooms.
LA Penthouses: Johnny previously owned five side-by-side penthouse apartments in downtown Los Angeles' "Eastern Columbia" building. Acquired between 2007 and 2008 for a total of $7.2 million, he sold these penthouses all at once in 2017 for $10.9 million after listing them for a combined $12.8 million a year earlier.
Kentucky: In his native Kentucky, Johnny owns a 41-acre horse ranch in Lexington. Acquired in 1995 for $950,000 and then sold in 2001 for $1 million, Johnny actually re-purchased the property in 2005 million for $2 million as a gift for his mother. She lived there until her death in 2016. Johnny sold the property in 2020 for $1.35 million.
Côte d'Azur: Located roughly 17 miles from Saint-Tropez in a town called Plan De La Tour, Johnny and his then-partner Vanessa Paradis bought the 37-acre estate in 2001 for an undisclosed amount. They proceeded to spend a reported $10 million renovating the grounds and structures, some of which were well over 200 years old.
The estate is comprised of dozens of structures including an entire 19th-century small village. The main house spans 4,300 square feet and features five bedrooms/3.5 bathrooms. In 2015 Depp listed this property for sale for a little over $25 million. In February 2021 he quietly re-listed the property for $55 million.
Paris: In Paris Johnny owns a property in a suburb called Meudon. It is believed that Vanessa received this property upon their separation.
Bahamas: Johnny owns a 45-acre, mostly undeveloped, private island in the Bahamas. The island does have a 3,500 square-foot home surrounded by six pristine white sand beaches, and palm trees lining a lagoon. Depp's 156-foot, steam-powered yacht, Vajoliroja, is docked in a private harbor at the island. The island home is reported to be eco friendly, running on solar-hydrogen power, and was built using sustainable architecture and green building techniques.